Less than a week to go for this year's Autumn Bead Fair
We look forward to seeing you all there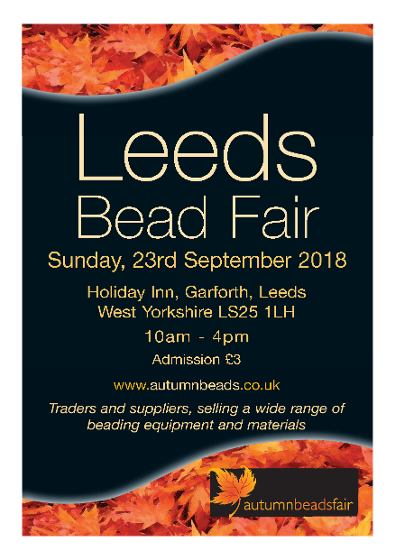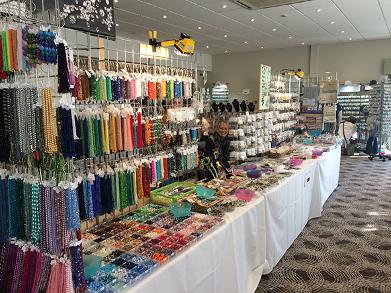 Forget the housework and come join us for a great day out,
23rd September 2018,
for this year's Bead Fair!

The event, now in it's seventh year is always a great place for creative beaders and crafters.
With it's fantastic selection of quality exhibitors always making this bead fair an inspiration and delight for beaders from far and wide. Creative demonstrations will run throughout the day.
Last year was fantastic and this year will be too, so put the 23rd September in your diary, tell your friends and look forward to another great day!

Located in the easily accessible Holiday Inn, Garforth (usual location), with free parking, close to motorway and very easy to find (LS25 1LH)

Admission will only be £3, again
and with a FREE goody bag, for
the first 200 through the doors,
it's a real bargain!
Autumnbeads Fair 2017
was Fantastic and
this year should be too!
A

Big

thank you to all the exhibitors and beaders who make our Bead Fair an unmissable event.

Beaders were overwhelmed by the variety and selection on offer, with great products, new styles and trends were very inspiring. The creative demonstrations were also inspirational.

It's always nice to see so many familiar faces from previous years and to so many beaders connecting and sharing their enthusiasm for our pastime.

We had a fantastic time and hope to see you all there this year 23th September 2018. A big thank you, again, to all exhibitors, for their support, inspiration and passion for our craft:

Charisma Beads www.charismabeads.co.uk
Old Bicycle Shop www.oldbicycleshop.co.uk
Spangles www.spangles4beads.co.uk
Stable Lodge Beads www.stablelodgebeads.com
Beadshop Leeds www.beadshopleeds.com
Tuffnell Glass www.tuffnellglass.com
The Gemstone Boutique www.gemstoneboutique.co.uk
Silver Fairy Design www.silverfairydesign.co.uk
Halfpenneys www.halfpenney.co.uk
Jencel www.jencel.co.uk
The Southampton Bead Shop www.thesouthamptonbeadshop.co.uk
Finelines www.delicabeads.co.uk
Monty's Beads www.montysbeads.com
TotallyBeads www.totallybeads.co.uk
Rosarama Beadcraft www.rosarama.co.uk
Bargain Accessories www.stores.ebay.co.uk/bargain-accessories123
Silver Moon Beads www.silvermoonbeads.com
Celtic Spirit Jewellery
Gorgeous George Jewellery
The Bead Society of Great Britain
Interested in exhibiting at the event

Places go quickly, so if you are interested, get in touch now for a booking form. Very competitive rates.

History
Involved in the beautiful art of bead work and jewellery making, for many years, we found a need for quality suppliers in our region. We found the best choices available were found at bead fairs and as there weren't many other events in our region, Leeds offers the perfect location.

Location/Directions
The venue: The Holiday Inn Hotel is situated 1 mile from J46 of the M1. Leave the M1 at J46 and head onto the A63 towards Selby. Travel along the dual carriageway and at the roundabout take the 3rd exit. The hotel is 100 yards on the left hand side. Post code: LS251LH.
By Train
Station Name: Garforth
Distance: 1.0 MI/1.61 KM NORTH to Hotel
Turn right out of the Holiday Inn Leeds Garforth and straight ahead at the roundabout